'Cloudy With a Chance of Meatballs' hits number one over the weekend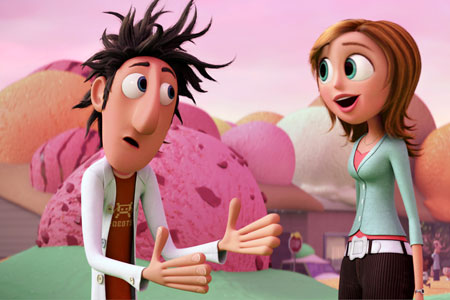 Since I wasn't one who carried a beloved relationship for the children's book it's named after, I would have been surprised that a movie entitled "Cloudy with a Chance of Meatballs" would go over big at the box-office. "The Lonely Doll," "The Pokey Little Puppy," "Are You There God? It's Me Margaret," "Flowers in the Attic," "Interview with a Vampire," "Valley of the Dolls" (yes, I'm going over my reading material from age 4 to 10. And yes, I read V.C. Andrews and Ann Rice in the fifth grade, these are not hard books. And yes, any ten year old girl will grab a pink book entitled "Valley of the Dolls" and devour it, no matter how salacious. And yes, this aside is far too long... )
Anyway, I would have been surprised had I not read so many raves and heard so many viewers excited to see how the film adaptation would turn out. So that curiosity garnered a $30.1 million lead for this weekend's movies. "Meatballs." How did I miss this book?
In one of those, I-never-though-I'd-ever-say-this-sentence-in-my-life moments, head of Sony distribution Rory Bruer (sounds like the name Colin Farrell gives on the train in the brilliant "In Bruges" after the Canadians he thinks are Americans rat him out...and no, no, no, that's not a children's story)...OK, so Rory Bruer (Rural Juror? Sorry, It's late. And it's not nice poking fun of someone's name) said, "The meatballs have cleared, so to speak. It really is a feature where everything aligned perfectly."
Sigh. OK. Oh dear. Time to make the donuts.
Well, I'm happy for the movie. And I'm happy that it means good news for future children's films turned to movies -- chiefly the highly anticipated big screen version of Maurice Sendak's "Where the Wild Things Are" directed by Spike Jonze. Now that one I did read and love and am excited for. Almost as much as Rory Bruer is. I just wanted to say his name in my head again.
Here's the top five movies over the weekend:
1. "Cloudy with a Chance of Meatballs" -- $30.1 million.
2. "The Informant!" -- $10.5 million.
3. "I Can Do Bad All By Myself" -- $10 million.
4. "Love Happens" -- $8.5 million.
5. "Jennifer's Body" -- $6.8 million