The most expensive films of the last decade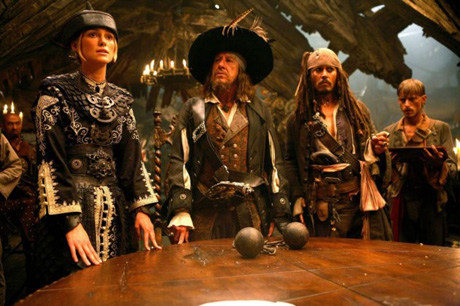 Did you know 2007 produced the most expensive movie in the last ten years? That's right, the same year that brought us "Black Snake Moan," "There Will be Blood" and "No Country for Old Men" also gave us "Pirates of the Caribbean: At World's End" for a whopping $317.4 million dollars.
My god. The only aspect of the "Pirates" films that I truly enjoy is Johnny Depp -- and though they pay handsomely for his services, I'm thinking a lot of that triple million doesn't go towards the cost of eyeliner.
Io9 lists the most expensive movies of the past decade, with this year being especially costly (take that recession!). Did you know the newest "Harry Potter" was more expensive than the latest "Transformers"?
Never mind we could feed the entire state of Alabama with these budgets, we need things to blow up and fly to stuff the pockets, I mean, ignite our imaginations. Or we could just eat two slices of cheese pizza and three bowls of Captain Crunch, fall asleep and have a heart racing, pulse pounding, high adrenaline dream -- for free.
I'm not against big budgets, especially in the name of quality, but looking down this list is a bit depressing. Remember "Wild Wild West"?