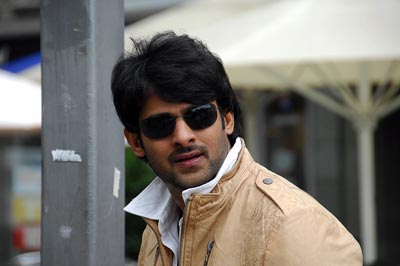 October 29th will see young rebel star Prabhas starring 'Ek Niranjan' directed by dynamic director Puri Jagannath. Puri is known for his punch dialogues like in 'Pokiri', Mahesh Babu's most famous dialogue 'Evadu kodithe mind block ayithe vaade Pandugaadu'. Now, it is the turn of Prabhas to utter 'Meelo evadikaina nannila kotte dhammundha? Malli nene try cheyyala?' This dialogue which is becoming familiar with the audience through trailers is generating very high expectations on the film. Prabhas is coming up with this film after his successful 'Billa'. Bollywood beauty Kangana Raunat has been cast opposite him and the Chairman of Aditya Group of Companies, Aditya Ram is the producer. On the eve of 'Ek Niranjan's release on coming Friday, here are some excerpts from his interview:
Tell us a little about your first time experience with producer Adityaram?
I am very happy and lucky to work with one such producer who has a very good taste in film-making. The way he planned his budget for this film right from its launch to the promotion shows his standards. I am really happy to work under his banner for a good film like 'Ek Niranjan.
This is your 2nd film with Puri Jagannath after 'Bujjigadu'. How do you feel about it?
I thoroughly enjoyed working with Puri in 'Bujjigadu' and 'Ek Niranjan' as well. Given a chance I would love to work in all his future projects. 'Ek Niranjan' will definitely reach the expectations of the audience. I am very confident about the film as there are enough elements to satisfy the people of all levels.
Which element in 'Ek Niranjan' inspired you the most?
First and foremost I personally liked the hero's role in the film. It's very rare and probably the first of its kind in Indian cinema. It is one of those roles that gave me complete satisfaction because you rarely get to play once or twice in your entire career. And the characterization of hero has been designed with two shades. He sights and sounds very rough and fierce but soft by heart.
Can you give us an idea about action elements in this film?
Like in all his films Puri did give a lot of attention to the action scenes in 'Ek Niranjan'. Stunt Siva has impressively choreographed the action sequences in the most efficient manner. Especially the climax scene was fantastically choreographed which I can say is the best of all my films till date.
What about the music?
You all know how big hit was 'Bommali..' song in 'Billa'. Likewise Mani Sharma's music is the biggest asset of this film too. Especially the title song is 'The Best' of all songs in my film career so far. After 'Varsham' no doubt this will be yet another musical hit for me.
What are the main attractions of 'Ek Niranjan'?
One can find Puri's brand in every frame of 'Ek Niranjan'. The entire film is entertaining right from hero's character, heroine, music, dialogues, action, and what more can I say.
We learnt that you are going to act in K Raghavendra Rao's direction?
You are mistaken here. It is true that I am going to do K Raghavendra Rao garu's film but, he will be producing it for which SS Rajamouli is the director. This film will take its shape in 2010.
Apart from this what are your upcoming films?
Presently I am doing a film under Karunakaran's direction. It is a romantic entertainer. The current schedule is being held at Switzerland after which we will move on to Bangkok and then to Araku. This film is going to be released for next summer. My second film which is also a romantic entertainer is under Dil Raju's production. This movie will be launched in a month's time and Dasarath is going to direct it.