Sharon Waxman reports on the response from filmdom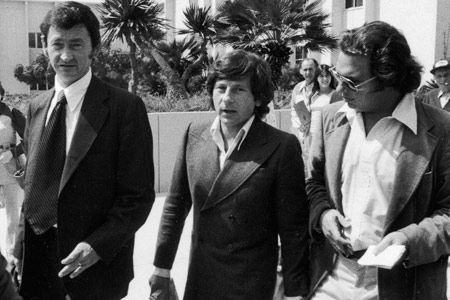 Hollywood, the entire world of cinema is rightfully in shock over the recent arrest of one of the greatest filmmakers alive, Roman Polanski.
Sharon Waxman writes about it at The Wrap:
"Hollywood and European cultural figures reacted in shock and anger to the news that Oscar-winning director Roman Polanski, 76, had been arrested in Switzerland on a 31-year-old U.S. warrant for charges that he had sex with a minor.
"L.A. Prosecutors Set Trap for Polanski," read the headline on Variety.com.
"In Paris, Culture Minister Frederic Mitterrand said he was "dumbfounded" by Polanski's arrest, according to the Associated Press. He added that he "strongly regrets that a new ordeal is being inflicted on someone who has already experienced so many of them."
"In public and private statements, prominent figures in the movie and cultural world expressed amazement that Los Angeles authorities would persist in pursuing the director at this late date, despite evidence of judicial misconduct in his case and the lack of support for a case from the victim, now a grown woman.
"'I am both surprised and concerned," said Mark Urman of Paladin Films, who has worked with Polanski for decades, echoing sentiments expressed by many on the eve of the Jewish holiday of atonement....
"'I find the whole thing sad all around,' wrote producer Mike Medavoy by email. Referring to the unrelenting policeman in 'Les Miserables,' Medavoy added: "While it isn't exactly Jean Valjean, the original story -- going back to Roman in Poland, the murder of his pregnant wife, and the strange mother-daughter story, the judge -- I think they should drop the charges and he should come and end all of this.'
"But L.A. authorities said that if extradited, Polanski would be sentenced at the hearing he avoided by fleeing the country three decades ago.
"'It's appalling," said French producer, Stephane Sperry, who has worked with Polanski. 'Roman is 76. And he's a genius of our generation. It's amazing to see something come back into the world we're in what the kind of brutality. We don't understand where it's coming from.'
"Sperry said French people saw the entire affair as part of the "misfunction" of the American judicial system. 'It's not normal. It's very disturbing – a bit of a scandal.'"